Pepper from Pontecorvo DOP filled with vegetables and fresh green tomato salad
Posted by

prevcardio

on

Tuesday, 20 October 2015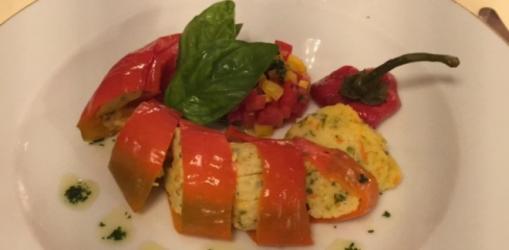 English
INGREDIENTS FOR 4 PERSONS
4 cornetto peppers from Pontecorvo DOP the "pontecorvese", 6.35oz. boiled potatoes passed, 1 egg, 1,4 oz. of seasoned buffalo ricotta, 4 basil sprigs, 4 parsley sprigs, 1,75 oz. of zucchini, 1,75 oz. of carrots, 1,75 oz. of celery, 1,75 oz. of coral beans.
For the fresh tomato salad: 9 oz. of green tomatoes, 1 slice of red garlic of Castelliri ( Fr ), 1,35 oz. of extra virgin olive oil, 4 basil leaves.
PREPARAZIONE
For the fresh tomato salad: slightly affect the tomato skin, blanch for 15 seconds, cool in ice water, remove the skins, cut in four, remove the seeds and cut into dices, season with olive oil, garlic, basil and chopped parsley, add little salt.
For the peppers: wash the peppers, cut off the stem and remove seeds. Apart wash and cut into cubes zucchini, carrots, celery, beans coral, individually blanch the vegetables in water with very little salt, cool, drain and add to mashed potatoes, add the egg, grated cheese, basil and parsley, mix and stuff the peppers, put the cap with the cuff and bake at 338 fahrenheit for 10 minutes, let cool.
PRESENTATION
Cut the peppers and place in them in the dish in a half moon shape; on one side prepare in a mold the fresh green tomato salad, garnish with 1 basil leaf and a few parsley oil drops.
NUTRIZIONAL VALUES
PROTEINS: 1.04oz; 12.6%
LIPIDS: 1.95oz.; 52.9%
CARBOHYDRATES: 2.85oz.; 34.5%
TOTAL FIBERS: 0.93oz.
ENERGY: 940 kcal; 235 kcal for person
Disclaimer. Questo sito web propone contenuti a scopo informativo e di prevenzione e, in nessun caso, tali contenuti possono costituire la prescrizione di un trattamento o sostituire la visita specialistica e il rapporto diretto con il medico.
FORSE POTREBBE INTERESSARTI ANCHE